Thanks!
We got your message and will be in touch as soon as possible.
Nice to meet you!
We'd love to hear more about you and your ideas.
Gold isn't the only thing that glitters in Ballarat.
There's no denying the unique charm and appeal of Sovereign Hill, the city's famous open-air museum, but as you'll soon learn, there's plenty more to do in Ballarat than pan for gold.
Keen to cut themselves a bigger slice of the $41.3 billion international tourism pie, Visit Ballarat has invested big energy and effort into destination marketing. One of these efforts is Visit Ballarat, a campaign so successful it evolved to become the city's overarching destination brand.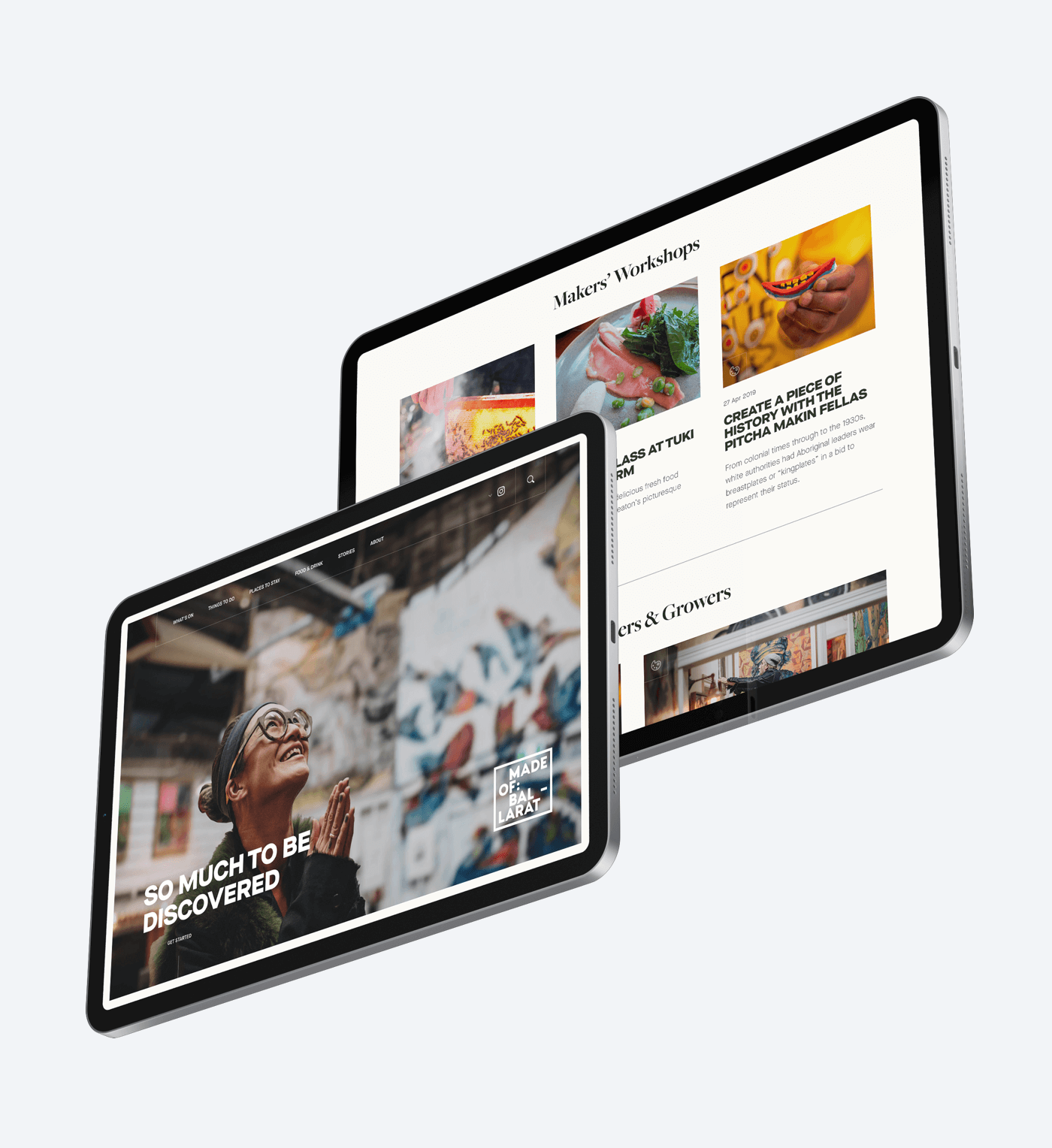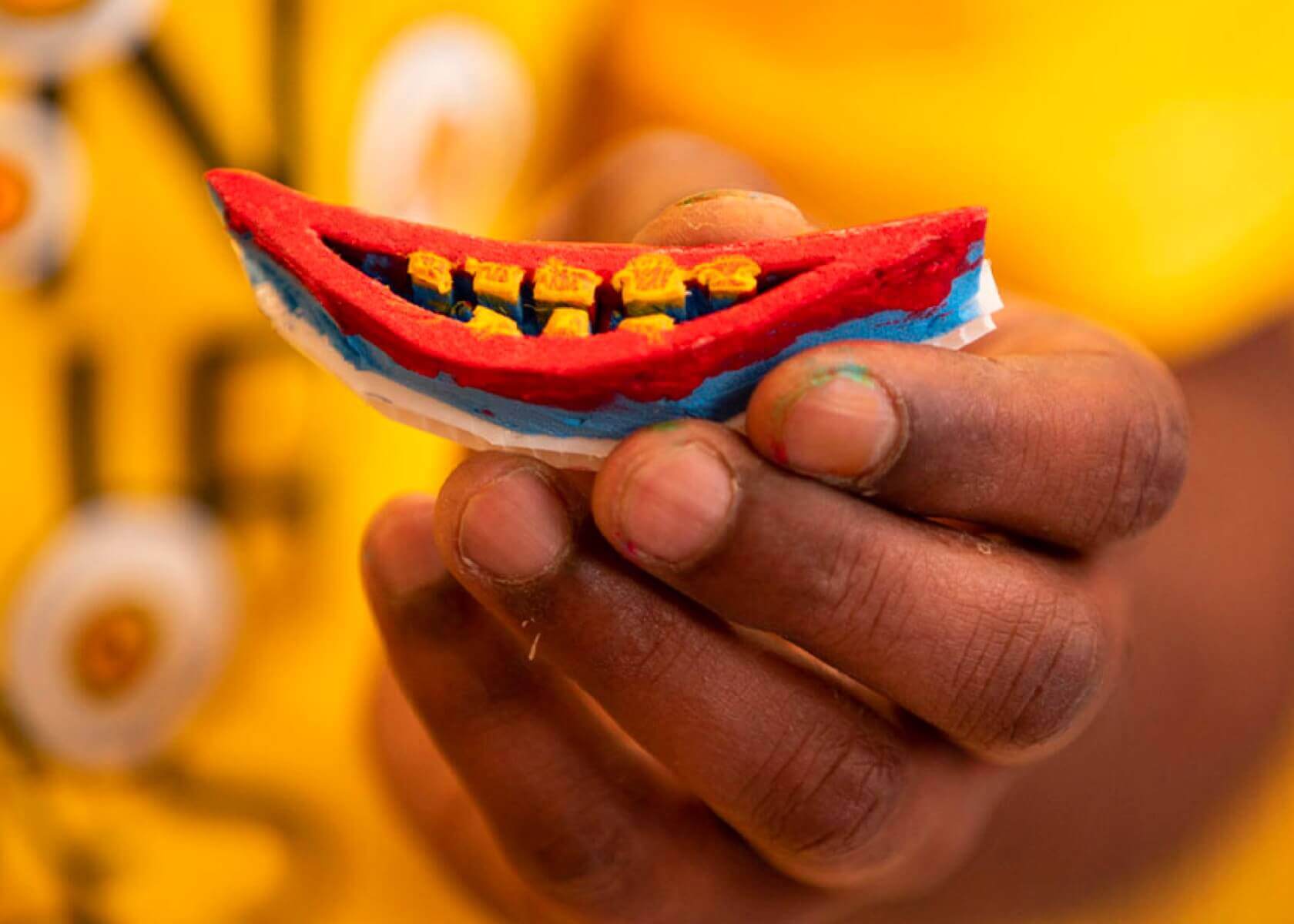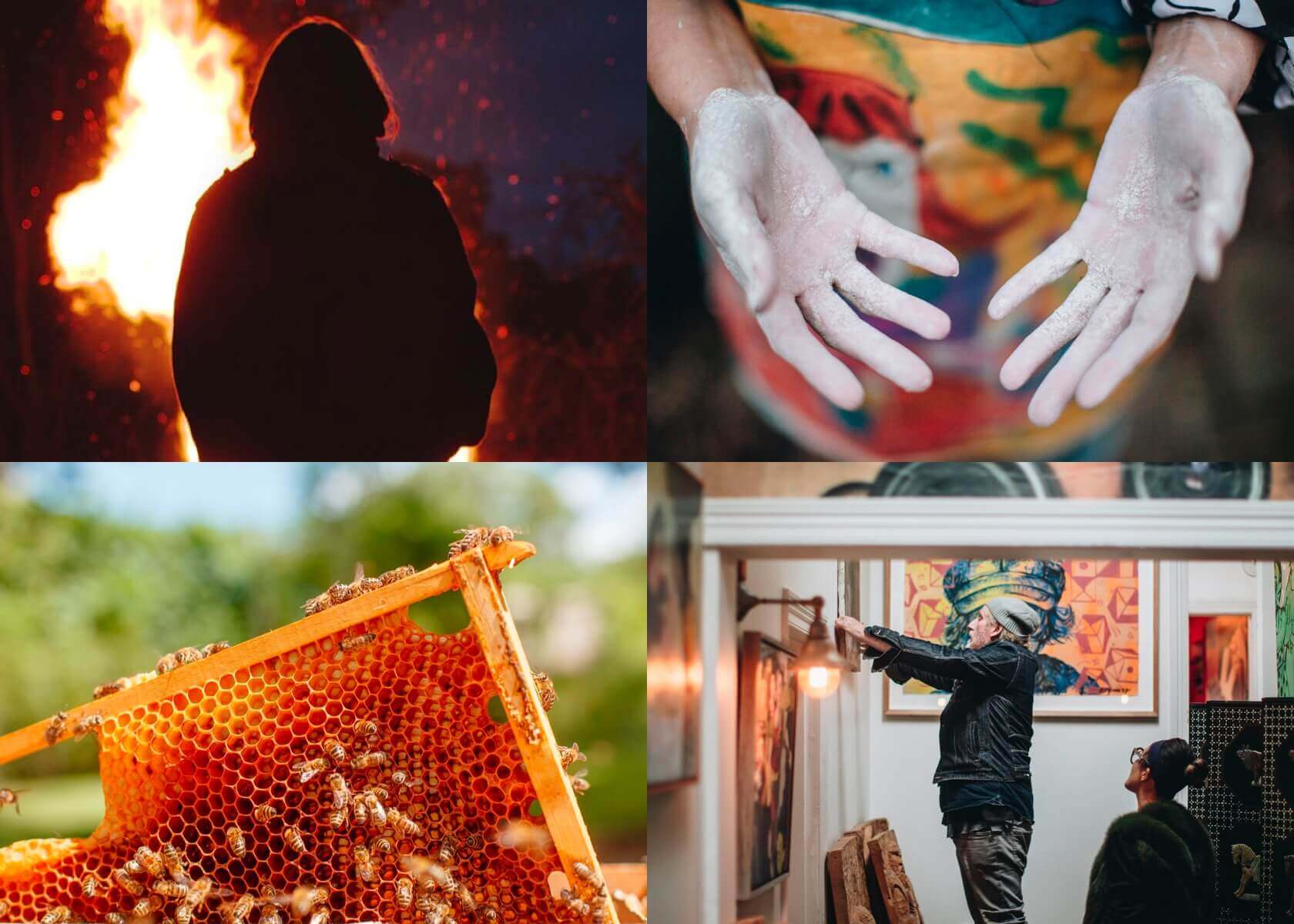 A mosaic of culture and cuisine.
Visit Ballarat focusses on the people that make the city a mosaic of culture and cuisine - the bakers, the barbers, the ballet dancers, and the bartenders. These and other entrepreneurs are the beating heart of Ballarat; they give the city its significance, depth, and value.
We're a group of avid travellers, so to learn we'd been selected to extend the Visit Ballarat brand for digital and reimagine their website was an exciting honour. Going in, we knew a cookie-cutter tourism website wouldn't be up to scratch - we'd need to design and develop a solution that was clean, classy, and set a new standard.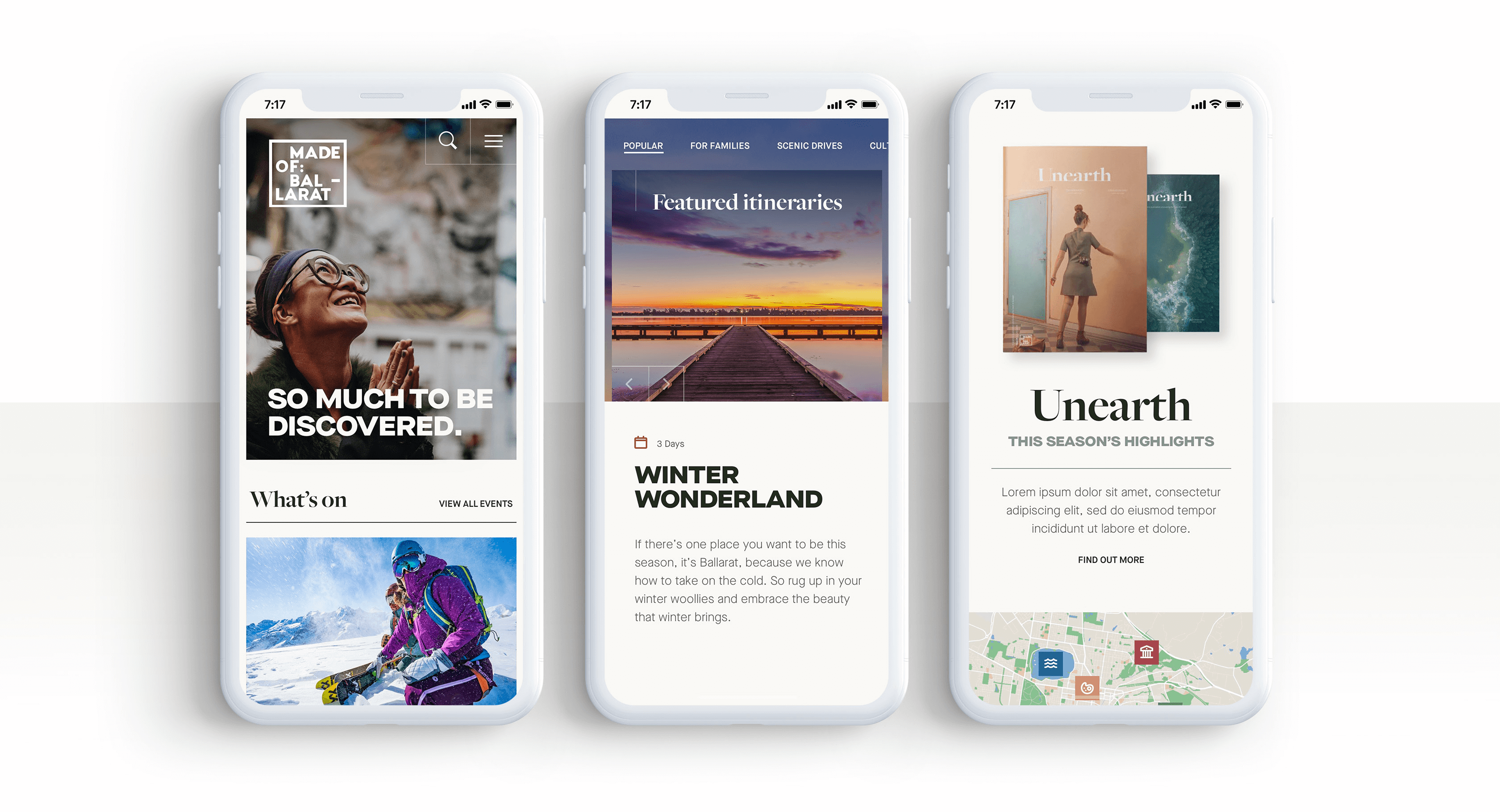 Our approach
For travellers, the process of selecting a destination involves hundreds, often thousands, of digital touchpoints. Many of these touchpoints fail to make a lasting impression because they lack a critical component - customisation. Travellers crave custom, both online and in real life. If an experience feels like it has been specially designed to suit your interests, preferences, and needs, you will perceive it as inherently more valuable and enriching than one that feels generic.
This was our north star for the project - create a digital experience that felt custom, with powerful functionality to foster connection and a sense of place.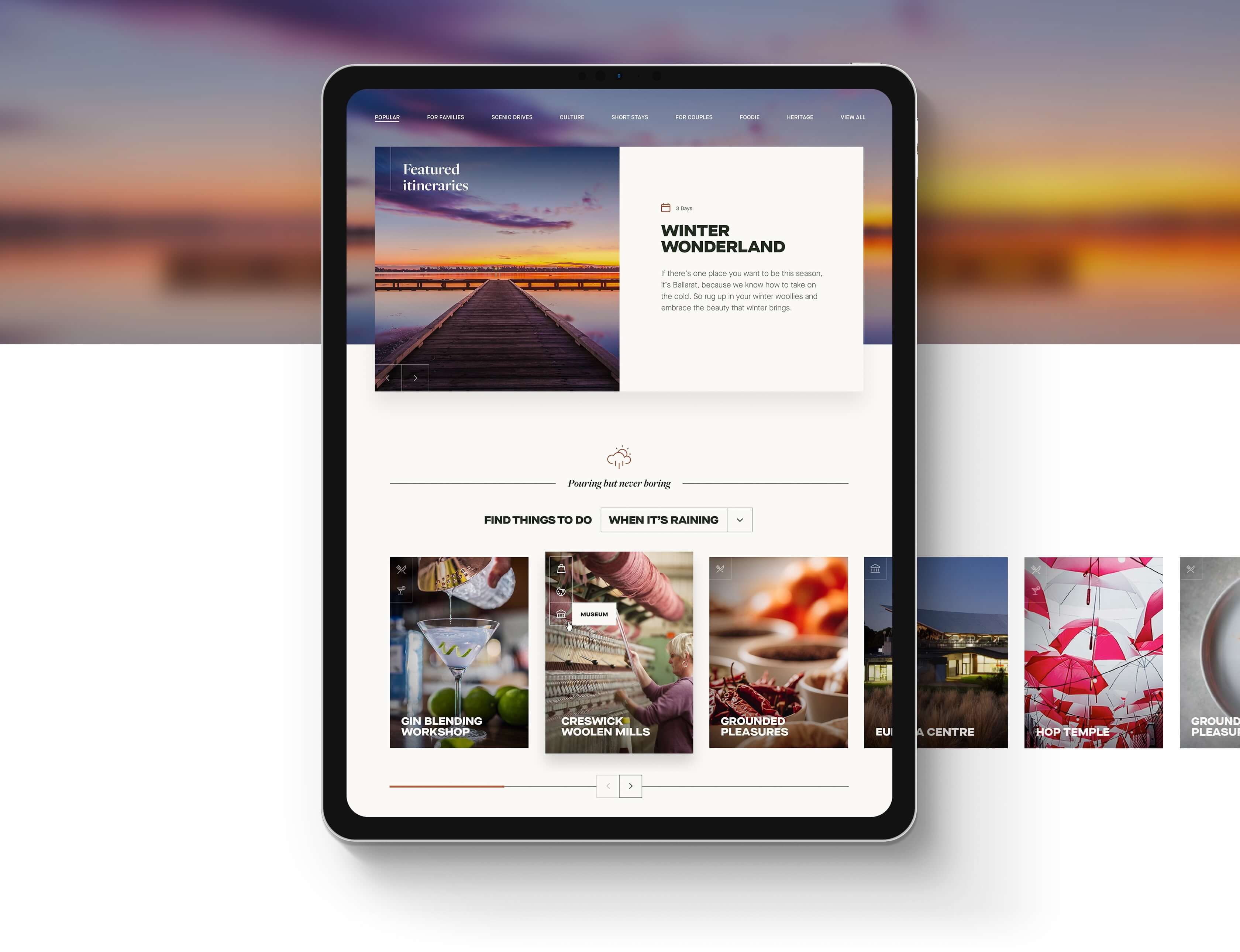 An interactive experience for you (the user).
The new Visit Ballarat website caters to all types of travellers, so whether you're a rigorous researcher or a free floater, you'll have fun finding whatever it is you're after… or perhaps discovering an unexpected surprise.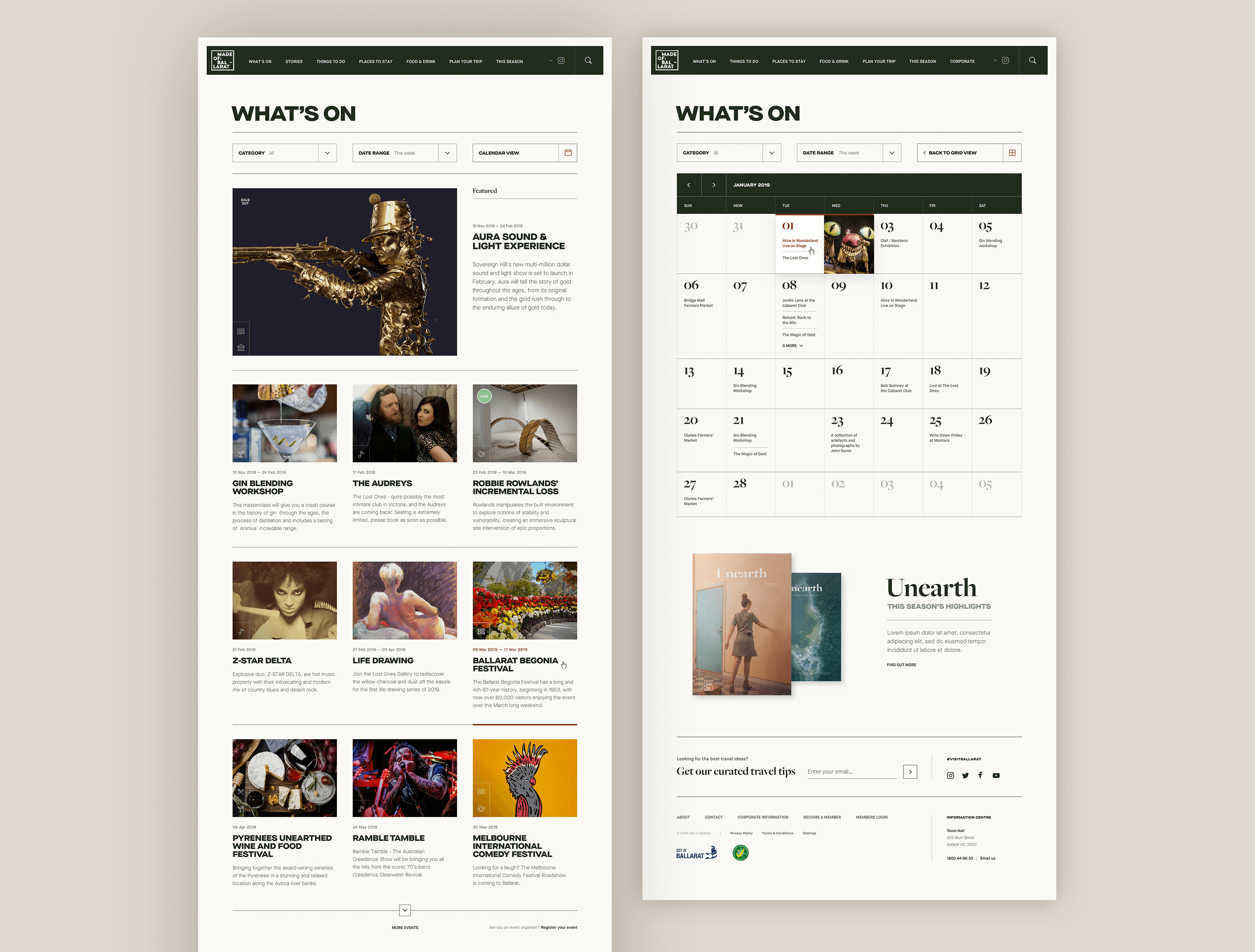 Smell ya later, Instagram grid.
The Instagram grid is overdone. (There, we said it.) To show off brand and user-generated content—something we know motivates travel purchasing decisions—we implemented a more elegant storytelling solution. In our very biased opinion,
A more engaging, storytelling-focused Instagram integration.
Putting Ballarat on the map… literally.
On the homepage you'll find an interactive map that not only suggests activities for your stay, but takes care of route planning, too.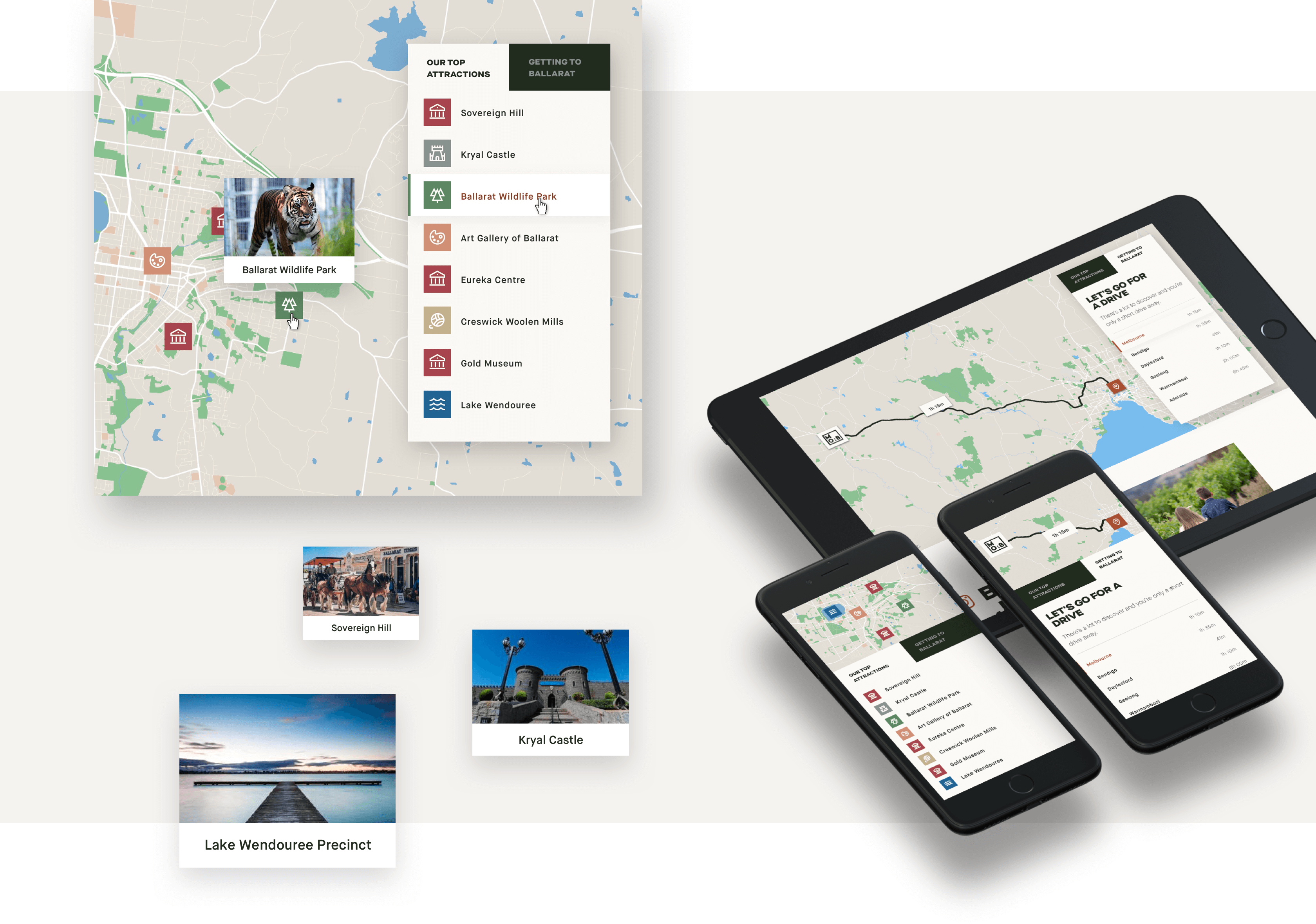 Plenty to see and do.
A 'Things To Do' component offers recommendations (with plenty of cheeky copy) on what to do in Ballarat when you're on a date, caught in the rain, or traveling with your four-legged fur baby.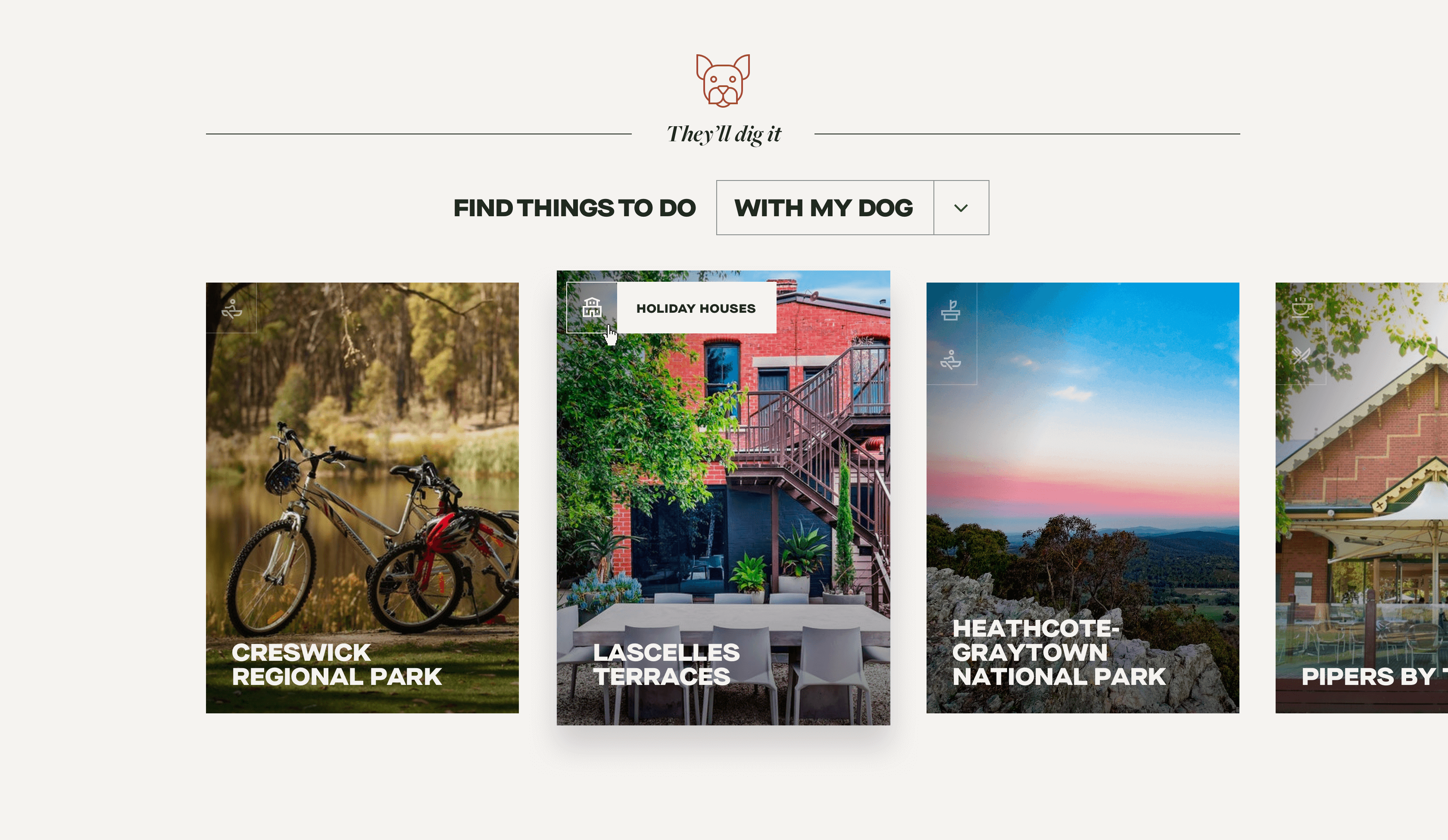 Interest-based itineraries
Each itinerary has been carefully curated by the Visit Ballarat team to serve a particular interest group. Rather than serve up a boring itemised list on click, we plotted each activity on a map to offer a bird's eye view of how you'd be spending your time in the city.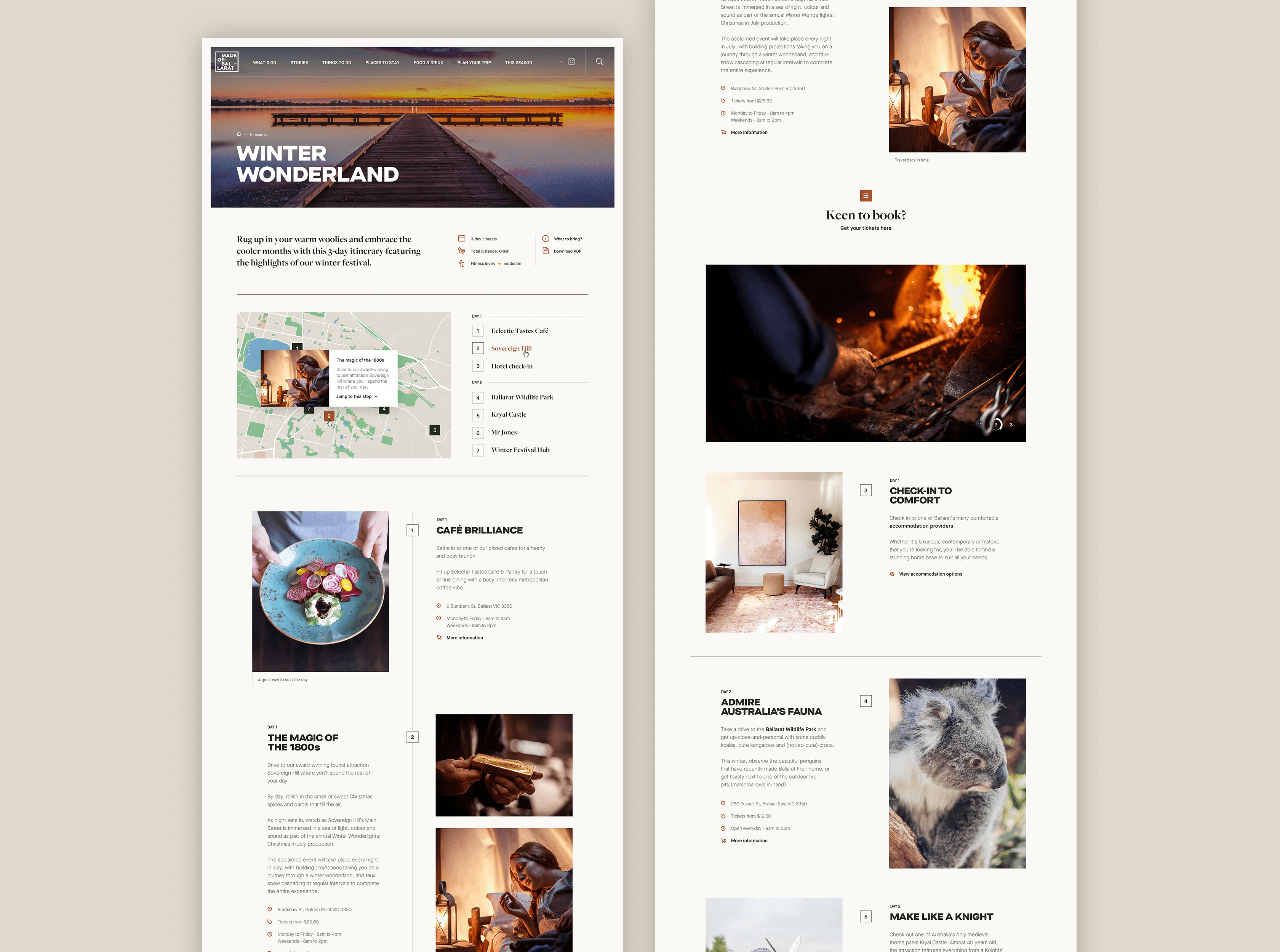 A flexible experience for them (the client).
Especially in the travel industry, being able to easily update text and images is essential. Out of date, out of sight, out of mind.
Beyond simplifying the uploading process, we also wanted to provide staff the power and flexibility to reconfigure the site based on whatever creative assets were on hand. Now, they can easily override Australian Tourism Data Warehouse (ATDW) data to apply a cohesive look, sound, and feel across operator listings.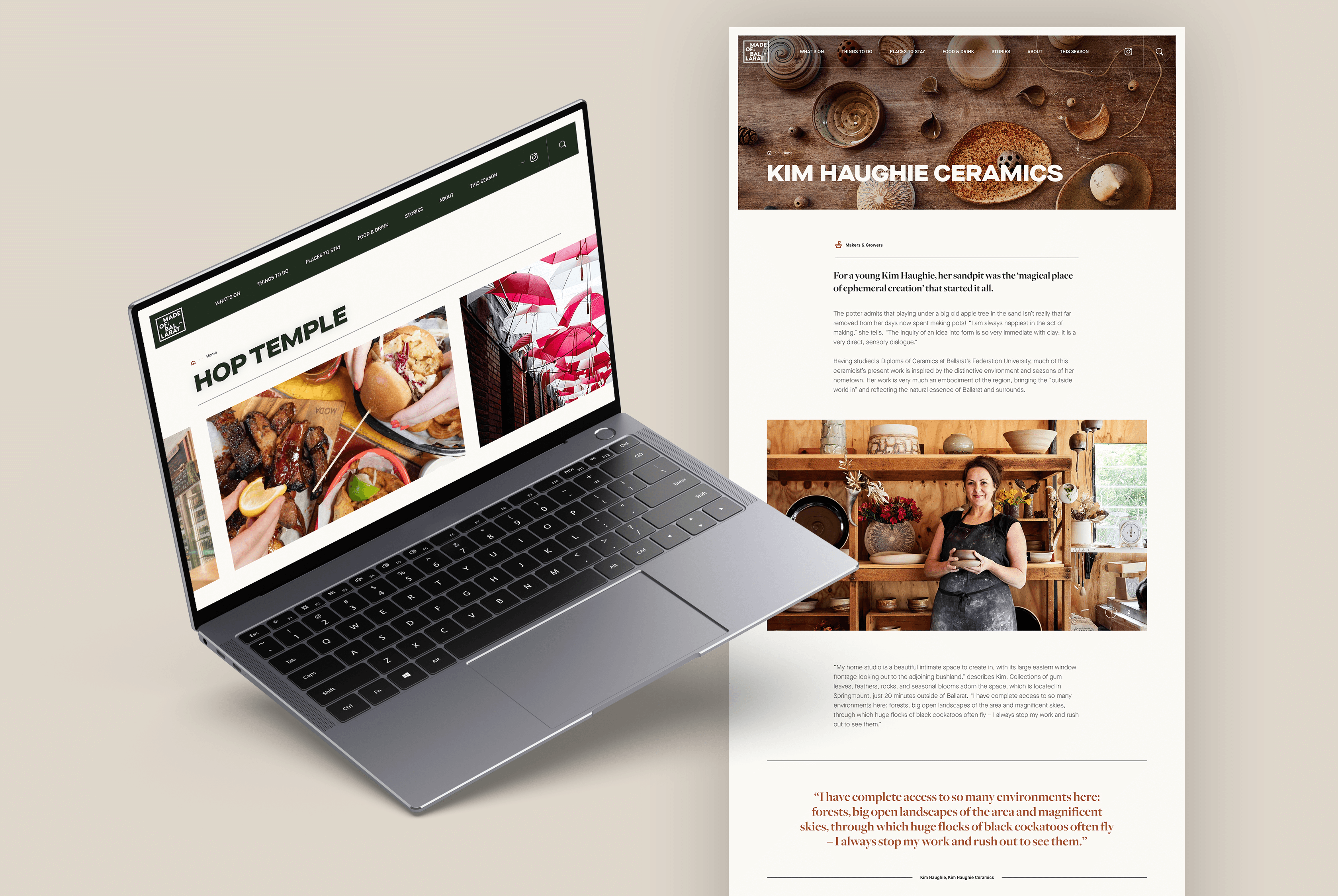 A fun experience for all.
Lucky for us, Visit Ballarat came to the table with plenty of data, research, creative content and, of course, a can-do attitude. They were open to our suggestions, honest with their feedback, and (spoiler alert!) pleased with the finished product.
We consider our new website to be at the forefront of user experience and design, not only for a regional tourism board, but in the broader industry of travel, entertainment and leisure. We could not recommend the team at Avenue enough – creative thinkers, client focused, strategic, innovative design, idea generation and delivery have all been top notch. Thanks so much guys.
Lucy Ibrahim
Head of Marketing
Visit Ballarat
Think we might be a good fit for your project?